TM-A Fully Automatic Blanking Stripping Machine
Type

Fully automatic stripping machine

Driven Type

Hydraulic

Service Location

India Turkey Egypt Algeria Kuwait Qatar France Myanmar Vietnam also South Africa
Contact Now
TM-A One time finishing automatic paper Stripping Machine belongs to post printing machine, after processing of paper creasing and die cutting, good partner of the semi-automatic die cutting machine and roll paper flat die cutting machine.
Application
Technical Parameters
Model
TM-780A
TM-1080A
Max. sheet size(mm)
780*540mm
1080*780mm
Max. pile height(mm)
60mm
60mm
Min. pile height(mm)
30mm
30mm
Bench height(mm)
850mm
850mm
Max. stripping size(mm)
780*540mm
1080*780mm
Min. stripping size(mm)
30*30mm
30*30mm
Stripping speed
5time/min
5time/min
Max. pressure(bar)
100bar
100bar
Machine dimension
1600*1600*1750mm
1900*2100*1750mm
Machine weight
2500kg
3200kg
Powder voltage
360-420v
360-420v
Frequency
50/60Hz
50/60Hz
Max. consumption power
9kw
9kw
Air consumption
2L/min
2L/min
Air compression
4-7bar
4-7bar
Input power
3Phase
3Phase
TM-A series microcomputer stripping machine for automatic cutting and manual die after various types of cigarette case, wine package box, PCS, cosmetics boxes, bottom lock boxes, since the deduction boxes, shaped boxes, trademark(logo), and other packaging automatic demolition or stripping edge professional equipment.
Features
It replaces manual labor, and improves product quality and enterprise benefit.
It adopts servo motor, Taiwan double guide rail and ball screw which makes accuracy less than 0.02mm.
The latest hydraulic system with inserted motor and oil temperature cooling fan (power 3.75kw). So it has constant and big working pressure.
The complete machine is equipped with Shneider/Omron PLC, and with a touch screen interface in operation. The operation is safe and easy.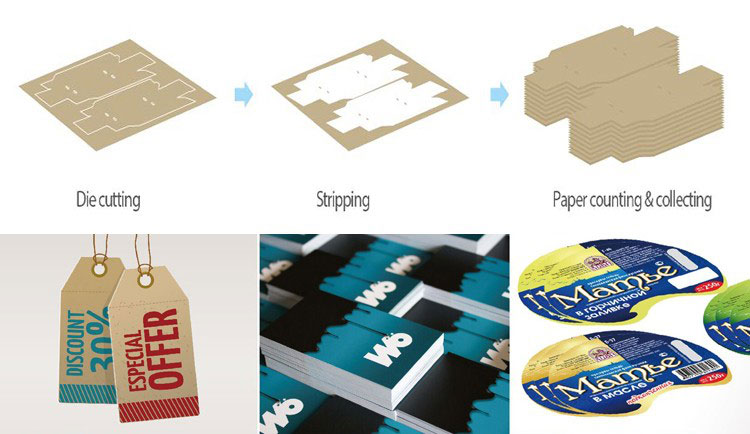 Feedback